On February 8th 2013 we deployed the first RESC.Info monitor installation in Switzerland. The Murten fire department in the Canton of Fribourg will be using our system within the BREF MissionFusion project for the coming 3 years to gain experience with our new approach of information management for emergency responders. The Murten fire department is really enthusiastic since they are a regional support point they have to go to incidents up 35km away. Local knowledge is practically non existing at those locations so the RESC.Info monitor gives them a good first hint on where to go.
This installation was made possible through the support of the BREF MissionFusion project. Together with the Bern University of Applied Sciences and netlabs.org.

netage.nl acts as the specialists in the emergency response field where our practical experience has shown its great value. The BFH will provide the infrastructure and contacts to the various government agencies. netlabs.org will provide the various government agencies with tools to generate and publish linked open data.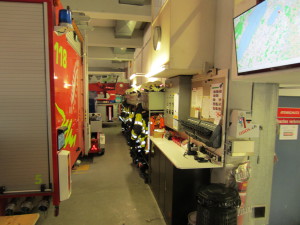 While installing the first screens at the Murten fire station it was great to see the various fire fighter  coming in and being enthusiastic at the first glimpse of the screen. Together with Adrian Gschwend of netlabs.org we had lively discussion about where we could get more data for the system.
We were able to guide the discussions based on our long running practical experience with both emergency response and information management.
The conclusion for all parties was clear, this is going to be a interesting and long running partnership to make the work of fire fighters in Murten safer.